I get it. We are all going a little crazy, and surviving on Disney+. Particularly those of us with really young kids. Thanks, coronavirus. Now, I think that all of the digital resources being made available for free or super cheap right now are AWESOME, and I thought about posting about those, but, lots of people have done that. And as much as I enjoy and appreciate them, I don't want us to just be watching video after video all day, even if they're educational. You feel me?
So I decided instead to put together a little list of some of my favorite ways to keep them occupied without a screen.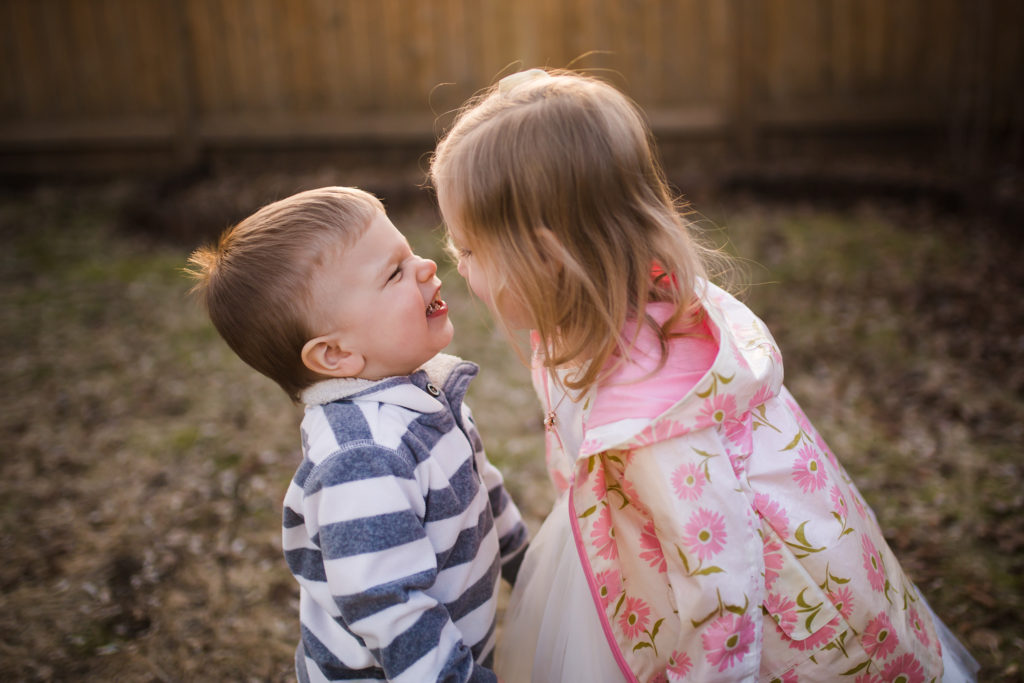 Here's a little context, if you don't know: I have a feisty 4 year old, and a very sweet 21 month old who wants to do everything with sister, but they also overwhelm each other on a semi-regular basis. ???? So these are some of my favorite (and new favorite) ways to redirect or distract them.
Go outside.
Almost every time there are bad attitudes and being at each other's throats, this fixes it. It's easy to not want to go out unless the sun is shining, but really, your kids won't mind if it's not, and if they're in a better mood, you'll be in a better mood. So whether that requires rain coats and mud boots, or mittens and snow boots, or whatever else, try taking them outside for at least 20 minutes, but really as long as possible. Play with them, or take the time to do some yard work, or read a book.
A bonus variation of this is to give them some sidewalk chalk. Draw hopscotch, create some of those fun chalk drawings that your kids can interact with for photos, draw chutes and ladders or four square if you have older kids, or just let them go to town. Which leads me to number two, ha.

Tubs.
This is my other true failsafe. Really, it's "put them in water," but since it's still way too cold for all outside forms of that, we're left with tubs for right now. My kids are still young enough to be in the bath together, and they will sit in there and play for a long time. I usually sit in the bathroom with them and work on my laptop or read, or listen to podcasts or sermons that I want to catch up on. They have a few bath toys that they play with, but even if you don't have any, just give them some toys that don't mind water. Measuring cups work well too.
Some variations of this that I've been taught that are worth mentioning are:
Lego baths. Dump some Duplo Legos in the tub, make sure anyone not potty trained is wearing a swim diaper, and let them at them.
Glow stick baths. Dim the lights if you can and throw some glow sticks in the tub with them. They'll love it.
Popsicle baths. Put them in and give them a popsicle. They will be happy and occupied, and clean up will be a breeze.

Drive Through Car Wash.
If you live in NE Wisconsin, chances are, your car needs to be washed anyway. Spend the extra couple dollars for the longer wash cycle. My kids love watching all the moving and swishing and spraying, and staring at the fun multi-colored soap. Everyone stays in the car, and no contact is required with anyone, but you still get out of the house. Win win win.

Maybe an obvious one, but go for a walk.
If you have any parks nearby, you can pack your stroller, drive to the park, and then walk. We are avoiding playgrounds for right now, because of Covid, but my kids still love walking, riding in the stroller, and picking up every single rock and stick they see. And exercise is very good for any stuck-at-home-blues you are feeling.

Paint Things.
Any things. All the things. Paper. Flower pots. Rocks. Shirts. My kids will happily put layers and layers of paint on anything I set in front of them. And then you can revert to tip #2, haha. And for anything that you don't want to keep, I bet there are a few people in your life who would enjoy a surprise little gift left outside their door of some "custom artwork." ???? And then that gets you out of the house as well!

Instigate Rest Time.
If your kids don't already have this as part of their routine, I highly recommend working it in and making it a part of their stable day-to-day that they can count on. Lucy doesn't always nap anymore, but even when she doesn't, she has a designated rest time in her room every day during which she can listen to music or audiobooks, play quietly, look at books, or lay down if she wants to or has been particularly sour that day. Hers is two hours, since that's about how long brother naps, and I NEED that time, haha. But if this is new to your child, you can start small and build your way up to a longer period of time gradually. We have a clock in her room that lights up and/or plays a song when she can come downstairs, but setting a timer on a phone or regular alarm clock would probably work just as well.
Those are my favorites right now! If I discover any more life-changing options, I will add them. Let me know if any of these help you maintain some sanity! ☺️